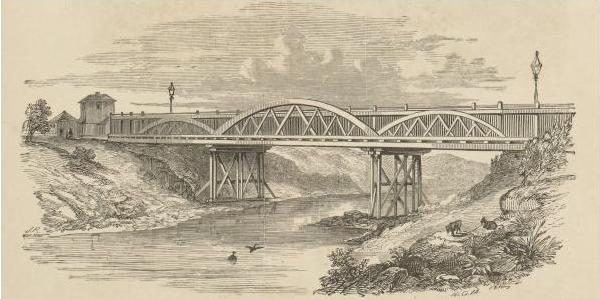 Victoria Bridge spanning
Wallis Creek linking East and
West Maitland 1852-1896

17 October 2020
*********************
The following information is subject to change at short notice due to COVID-10 Health Advise
Our Rooms are Open On Wednesdays & Saturdays to members.
Our next Speaker Evening is scheduled for Tuesday 3rd November 2020 at 5.30 pm. Our speaker will be Frank Oakes and the topic is Lorne. Bookings required.
Contact our Sercretary. Steve Bone.
Please follow the COVID-19 requirements which are in place when attending.
Watch this site regularly for changes.
*********************
The Maitland and District Historical Society Inc. actively celebrates the history, heritage and culture of Maitland's rich past.
The Society was incorporated in 1989 and has an enthusiastic membership committed to bringing Maitland's history back to the community.
Location: 3 Cathedral Street, Maitland

Open: 11.00am-3.00pm Wednesday and Saturday - all welcome

Lecture meetings: 5.30pm on the first Tuesday of each month from 5.30 to 7.00pm (except January) - a forum for lectures, talks and presentations - all welcome
Business meetings: are held on the third Tuesday of each month from 5.30 to 7.00pm (except December).