Publications for sale
Publications can be purchased direct from our rooms or by mail.
BY MAIL
Send a cheque or money order to:-
Maitland & District Historical Society,
PO BOX 333, MAITLAND NSW 2320.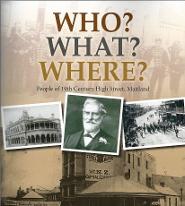 Who? What? Where?
Reprinted and available for sale for $25.00 plus P&H $9.70
This book provides information on over 40 businesses in High Street operating during the 1800s.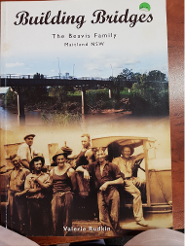 Building Bridges - The story of the Beavis Family in Maitland NSW
$15.00 P&H $16.65

CURRENTLY OUT OF STOCK
OR Payment can be made directly into our Mutual Bank account
BSB: 646 000
Account Number: 100075198
Please supply your name when depositing and email the details of your purchase to maitlandhistorical@gmail.com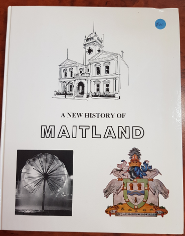 A New History of Maitland (1983) An Eighty page Hardcover Publication. Various chapters have been written by former members of the Society.
$20.00 Postage $16.65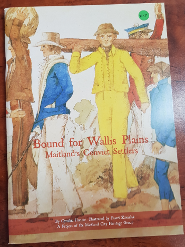 Bound for Wallis Plains by Cynthia Hunter.
$25.00 P&H $9.70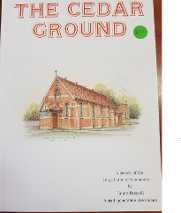 The Cedar Ground - A History of the Largs Catholic Community by Helen Russell, (109 pages)
The centenary of the present Largs Catholic church in 2010 instigated this book. It starts with a summary of early European settlement in the lower Hunter region around Largs. Then chronicles the rise of the families who populated the Largs area through to the present day, with a focus on the role of the Catholic church. Archival details of the formation of a Convent in 1889 and Catholic school are presented. Complemented by many wonderful photos.
$30.00 P&H $9.70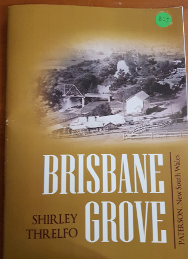 Brisbane Grove by Shirley Threlfo, Paterson Historical Society 71 pages
This book provides a very detailed history of an original 560 acre, 1824 land grant across the river from the village of Paterson.which became known as ""Brisbane Grove". Unlike some early grants, no grand house was built, and the first house was a slab hut. The book focuses on the changes in ownership and use of the land up until the present day, and is complimented by many historical photos.
$25.00 P&H $9.70
TEMPORARILY OUT OF STOCK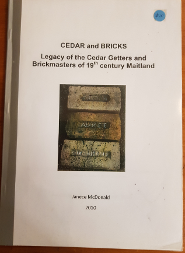 Cedar and Bricks by Janice McDonald 37 pages.softcover
Maitland has a large number of impressive 19th century buildings complemented with cedar joinery, fittings and furniture. The cedar getters (convicts) cut cedar from 1801 onwards, in the dense forests which covered the, now cleared, river floodplains. Commercial brick makers appeared a little later around the 1830's. This book describes the beginnings and evolution of both industries.
$10.00 P&H $4.50
CURRENTLY OUT OF STOCK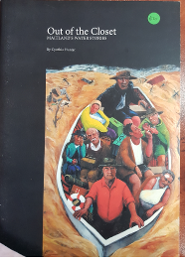 Out of the Closet - Maitland's Water Stories by Cynthia Hunter , 2006, 78 pages.
An eclectic consideration of events in Maitland associated with water, beginning with aboriginal settlement and colonial exploration. Separate chapters then consider specific topics such as: historical bridges, sourcing fresh water from the tidal rivers; water carts and fire brigades; early use of the river for waste disposal; ice-making; boat races and bathing. Walka Water Works 1887 & Chichester Dam 1920's; sewerage early 20th Century; and flood management 1940's inwards, Enhanced by original paintings.
$30.00 P& H $9.70
Maitland Speaks - The Experience of Floods by Chas Keys.
This book details interviews with various Maitland and former Maitland people and examines how floods have affected people's decisions over many decades. It questions whether Maitland's Council, businesses and people are prepared for the consequences of future big floods. An interesting read, especially if you live on a floodplain as more than 4000 residents of the City do – for example in central Maitland, South Maitland, Lorn and rural areas like Bolwarra, Louth Park, Phoenix Park and Millers Forest.
$35.00 P&H $9.70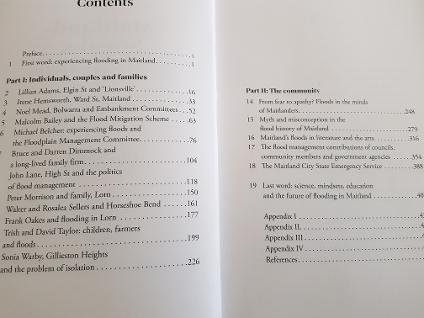 The following journals are available to purchase from the Historical Society:
Journal of Hunter Valley History. Vol.1 No.1 1985, 141 Pages
Contents; Dean Lynch; Catholic Priest and Community Leader.
Railway Builders in the Hunter Valley 1854—1878.
The Glendon Stud
Marriage and Settlement of Hunter Valley 1818 – 1838
Michael Scobie 1802 – 1903
The Establishment of Secondary Education in Newcastle,
Maitland District.
Journal of Hunter Valley History. Vol.1 No. 2 1985, 112 Pages
(Note; This Volume limited supply, only sold in set of four volumes)
Contents; The Life and Times of Henry Reeves of "Segenhoe" and
Maitland.
The Hunter as it was: Documents and News Items.
Journal of Hunter Valley History. Vol. 2 No. 1 1986, 176 Pages
Contents; German Immigration to the Hunter Valley in the Mid—19th
Century.
John Earl of Glenridding.
Hunter Valley Inns and Innkeepers Part 1: 1820's
Enduring Fabric: Life and Society in the Upper Hunter.
Impressions of Early Newcastle 1825 – 1840.
John Gillies: Member for Maitland.
Government Cottages at Hunter's River.
Charles Hughes: An Early Innkeeper at Newcastle, Maitland
and Black Creek.
Scottish Influence in the Upper Hunter.
Journal of Hunter Valley History. Vol. 2 No. 2 1986, 154 Pages
Contents; Gold Fever in the Hunter. Part 1 "Off to California".
The Life and Times of John Herring Boughton.
Down Memory Lane: The Victoria, Newcastle's First Grand
theatre.
From Convict's Surgeon to Settler. The Life and Times of Dr.
William Evans.
The Governor Comes to Town: Official Tours of the Hunter
Valley in the 1830's— 1840's
William Vile 1812 – 1907.
Hunter Valley Inns and Innkeepers Part 2: 1830's.
The four abovementioned Journals are available for $10.00 each plus Postage through Australia Post or the set of 4 for $30 plus Postage.
Also Available:
Hunter Valley Directory 1841 By Elizabeth Guilford. Pub. 1987
248 Pages, Hard Cover.
Contents; Part A: the General Directory; Population, Police Districts, Civil Establishments, Aust. Agric. Co., Education Establishments, Businesses, Industries, Professions, Shipping, Mail and Coach Services, Societies and Associations.
Part B: The directory of Inhabitants.
This Book costs $10.00 Plus Postage
To order, please email

maitlandhistorical@gmail.com
or phone 0438623299